PROTEIN ENTRÉE
Wholesome and packed with protein and flavor.
Chicken Entrées
Breaded Chicken Scaloppini
Chicken Piccata
Coconut Chicken Tenders
Chicken Coq au Vin
Chicken Marsala
Honey Sriracha Chicken
Coconut Curry Chicken
Moroccan Chicken
Jerk Chicken
Pork Entrées
Breaded Pork Chop
Sweet & Sour Pork
Pork Carnitas
Korean Glazed Pork Tenderloin
Garlic & Rosemary Pork Tenderloin
Teriyaki Pork Tenderloin
Beef & Lamb Entrées
Beef Bourguignon
Beef Meatloaf with Brown Sugar, Tomato Glaze
Corned Beef
Beef Stroganoff
Meatballs
Veal Piccata
Beef Stew
One of our
favorite Beef Entrées
Beef Meat Loaf
Our home-style meatloaf is made with savory seasonings, cage-free eggs, onions, tomato puree, and toasted breadcrumbs, smothered in a zesty, sweet glaze to give it extra zing.
One of our
favorite Chicken Entrées
Jerk Chicken
The vibrant marinade makes this dish deliciously seasoned. The quality chicken meat is barbequed to perfection for an aromatic, smoky flavor that carries the dish's sweet and hot taste.
One of our
favorite Pork Entrées
Garlic and Rosemary Pork Tenderloin
The flavor profile of this tender protein is enhanced through the balance of rosemary, garlic, salt, and pepper. And, of course, no good pork dish is quite complete without a helping of mustard, so we added course mustard for the perfect finish.
See something that you want to customize?
We can assist in personalizing any product and SKU in our state-of-the-art kitchen.
SEAFOOD ENTRÉES
Our seafood entreés are a catch!
Pan Seared Salmon
Pesto Crusted Cod
Potato Crusted Tilapia
Seafood Cioppino
Lobster Pot Pie
Jambalaya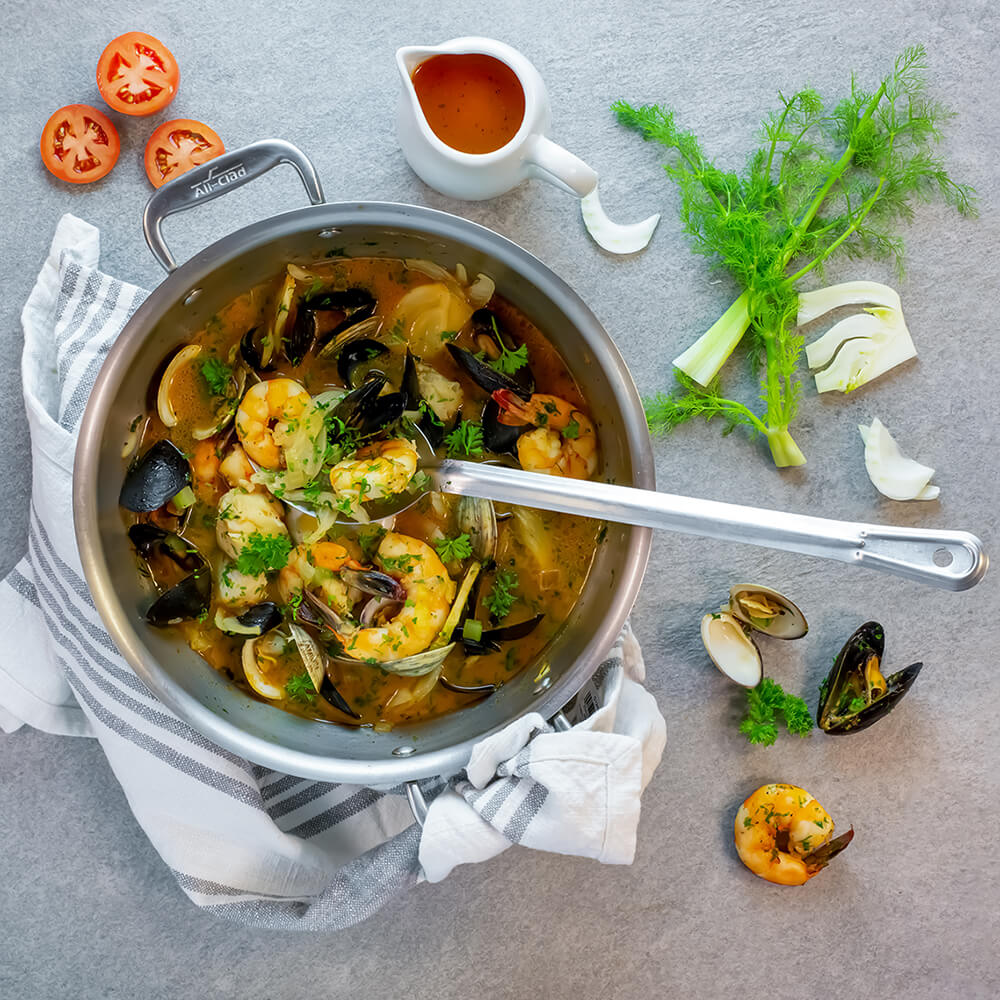 One of our
favorite Seafood Entrées
Seafood Cioppino
Created by an Italian fisherman based in San Francisco, our take on Seafood Cioppino is inspired by the authenticity of the original recipe. Clams, mussels, shrimp, and cod fillets are treated to a helping of perfectly paired herbs and spices. In addition, selected vegetables enhance the perfect taste of ocean goodness.