COLESLAW
Crisp and tangy goodness, everyone has a favorite.
Tangy Apple Coleslaw
Southwest Coleslaw
Brussel Almond Coleslaw
Classic Coleslaw
Dixie Coleslaw
Asian Coleslaw
One of our
favorite Coleslaw Salads
A soul-satisfying coleslaw filled with classic Asian flavors.
Asian Coleslaw
Our kitchen uses only the best ingredients to create this crisp and refreshing salad with complex tastes and flavors.
The toasted sesame oil draws you into this dish; with each mouthful, the intricate spices and the crunch of the fresh cabbage and carrot guarantee a refreshing and culinary experience.
What coleslaw will speak to your customers' taste?
If you want to explore a new approach to flavor profiles that speak more to your brand, get in touch, our R&D chefs are ready to assist.
GRAIN SALADS
Healthy, wholesome, and full of texture and flavor.
Citrus Quinoa with Pecan & Feta
Tabouli with Quinoa
Mediterranean Couscous
Wheatberry Waldorf
California Quinoa
Tuscan Kale & Lentil
Cranberry Couscous
Ancient Grain with Roasted Vegetables
One of our
favorite Grain Salads
Healthy and grand in taste, this salad shines as a side or a meal on its own.
Mediterranean Couscous Salad
We use only fresh ingredients to create a hearty salad experience that offers a tasty, nutritious meal solution.
Fragrant fresh lemons with Kalamata olives and artichokes served with perfectly cooked couscous and chickpeas make this a hearty salad that carries the Mediterranean flavors straight to your palate.
Which textures and flavors will make the perfect grain salad for your customers?
At Brett Anthony Foods, our Research and Development Kitchen can customize a grain salad product range that is healthy and jam-packed with flavor.
PASTA SALAD
The perfect base to deliver endless variety of flavors.
Cheese Tortellini w/ Spinach and Olive Oil
Sesame Noodle Salad
California Pasta Salad
Bacon Cheddar Ranch Pasta Salad
Peanut Noodle Salad
Mozzarella Pasta Salad
Creamy Macaroni Salad
Drunken Noodles
Dan Dan Noodles w/ Ground Pork & Spicy Greens
One of our
favorite Pasta Salads
An indisputable summer crowd-pleaser.
California Pasta Salad
A healthy and masterfully balanced salad with tangy bites of feta, black olive, sweet bell pepper, earthy spinach, and soft pasta – making for a wonderful culinary experience.
What pasta salad has the potential to become a customer favorite for your brand?
Our skilled R&D chefs are always open to exploring and customizing new tastes and flavors.
POTATO SALAD
The taste of family time on a plate.
American Potato Salad
Red Skin Potato Salad
Loaded Baked Potato
Summer Mustard Potato
Sweet Potato Chipotle
Dill Relish Potato Salad
Steakhouse Potato Salad
Pickled Mustard Seed (Vegan)
"Chicago Style" Potato Salad
Deviled Egg Potato Salad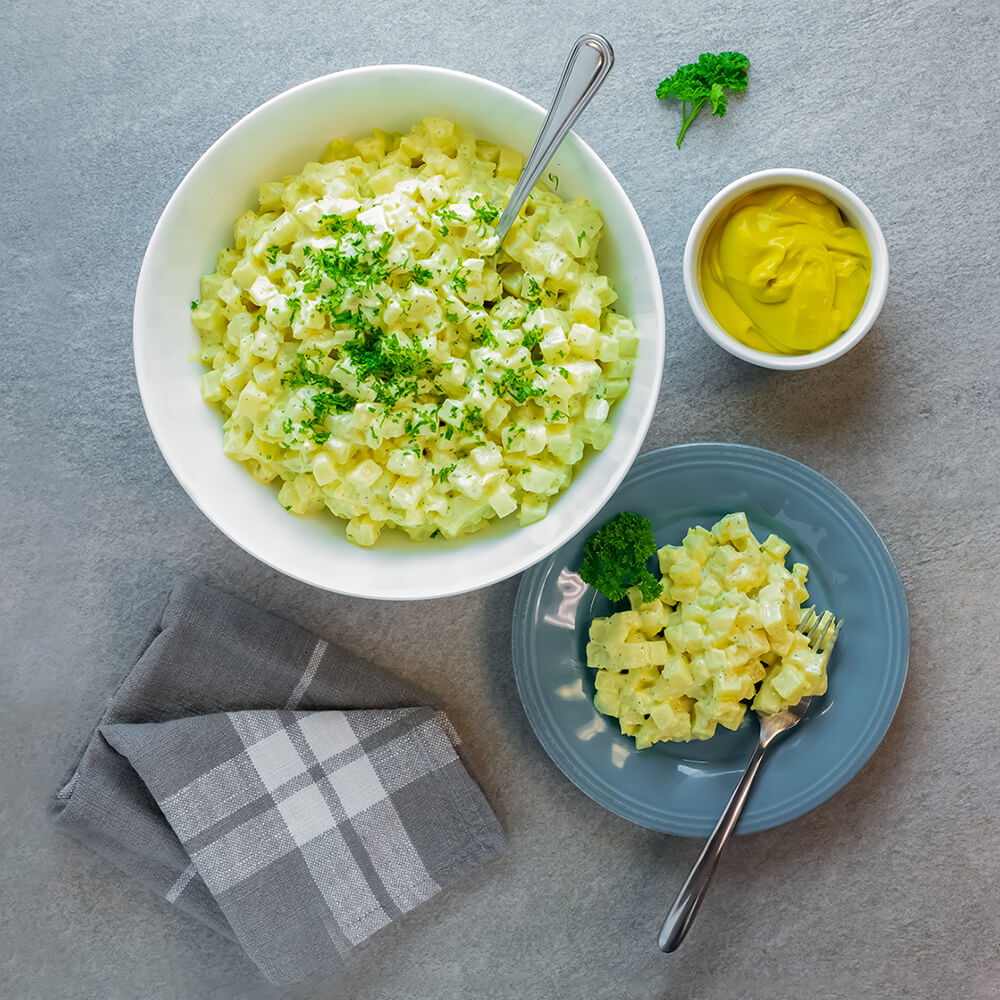 One of our
favorite Potato Salads
Fluffy, creamy, and full of flavor
American Potato Salad
This creamy potato salad is complemented by a hint of mustard, dill pickles, and crunchy celery that adds to the variety of flavors.
The American Potato Salad is a sure sign that the season is changing to the warmer months.
Would you be interested in customizing this American classic to suit your own and your customers' preferences?
You can take this American classic and tailor it with the help of our research and development team.
PROTEIN SALAD
Protein-packed, fresh, crisp, and balanced.
Chicken Salads
Classic Chicken Salad
Cajun chicken Salad
Curry Chicken Salad
Herb Chicken Salad
Egg Salads
Classic Egg Salad
Southern Style Egg Salad
Tuna Salads
Classic Tuna Salad
Dill Tuna Salad
Citrus Tuna Salad
Mediterranean Tuna Salad
Niçoise Tuna Salad
Seafood Salad
Crab Salad
Shrimp Salad
One of our
favorite Chicken Salads
Crisp and creamy with naturally tender chicken.
Herb Chicken Salad
The centerpiece of this dish is our high-quality chicken, whose hearty flavor is enhanced by aromatic herbs'. It's rich and refreshing to eat, with the creamy tang of mayonnaise and the crisp texture of fresh celery, which balances it out perfectly.
Is there a flavor profile you would add to make it an exclusive protein salad for your customers?
Then, our R&D team is ready to develop a recipe with you that will stand out from your competition.
VEGETABLE SALAD
Fresh ingredients, perfect seasoning, packed with nutrition.
Broccoli Raisin Salad
Lemon Barley Salad w/ Kale Pesto
Detox Salad
Street Corn Salad
White Bean Tomato & Rosemary Salad
Asian Broccoli Salad
Shaved Brussel Sprout Salad
Asian Crunch Salad
Roasted Cauliflower Salad
One of our
favorite Vegetable Salads
Big on crunch and big on flavor.
Broccoli Raisin Salad
This classic vegetable salad is packed in a tasty, seasoned, creamy dressing. It's an absolute treat with the big crunch of fresh broccoli and accents of sweet raisins and zesty red onion.